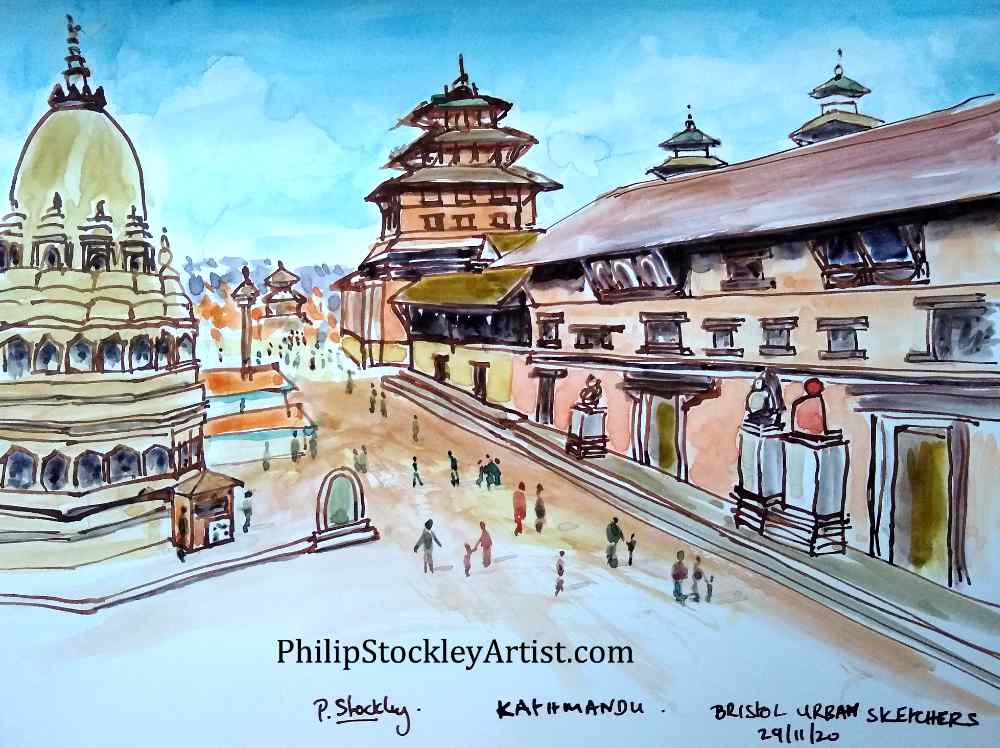 Near the end of 2019 I joined a few 'meet-ups' of the Bristol Urban Sketchers.  The format consisted of meeting at a pre-arranged place, then splitting up to find a subject you want to sketch for around an hour and three quarters – then meeting again in a coffee shop or pub to compare sketches, discuss techniques and generally talk art and sketching.  It was a great challenge for me – not only through sketching outside in some awful weather, but also through sketching quickly and from life.  It was also great to meet and spend time with like minded people, and to share ideas – on how to do pen and ink drawings, what equipment works best, how to make your own sketch books and so on. 
The group is part of a global movement called the Urban Sketchers   (UsK when abbreviated). There are different 'chapters' around the world – (you can see if there is a group near you here).  A central idea of the movement is that you draw from life and share your sketches with the group, or more widely.
The arrival of the Covid-19 Pandemic totally disrupted the usual operation of the Urban Shetchers movement, at least in the Bristol area.  Fortunately, the group has been able to continue, using Zoom to see and talk to each other, and finding images from around the world using Google Maps and other internet based sources. It has meant a different way of working and sharing information, but for many it has been a lifeline – to continue social interaction with like minded people, and to continue to sketch and to spend time creatively. 
There have been other benefits as well – people from different countries have been able to join in – including friends from Portugal, Italy and Taiwan.  And as we have sketched places from around the world, it has helped expand our knowledge and understanding of the world – for example: that Kathmandu in Nepal is still suffering from the dreadful earthquake in 2015; that Hagia Sophia in Istanbul became a muslim place of worship again soon after our 'virtual' visit, and so on.  And of course, we have been able to travel and meet up virtually – often with a cup of tea in our hands and a heater keeping us warm.
Although not sketching outside, I have generally tried to use the equipment I would use outside – a pencil, pen, ink, three primary watercolours (blue, red and yellow), and a few brushes.  I also tend to use a paper, such as bristol smooth paper, which has very different characteristics to the usual watercolour paper I use for most paintings (i.e. the paint tends to sit on the surface of the smooth paper and 'pool' more, meaning it does not spread so well for washes).  This has helped me develop a different style for sketching, as you can see on this page.
St Ives in Cornwall, UK.  This used to be primarily a fishing town and now is a popular holiday destination with a thriving arts community, including the St. Ives Tate Gallery.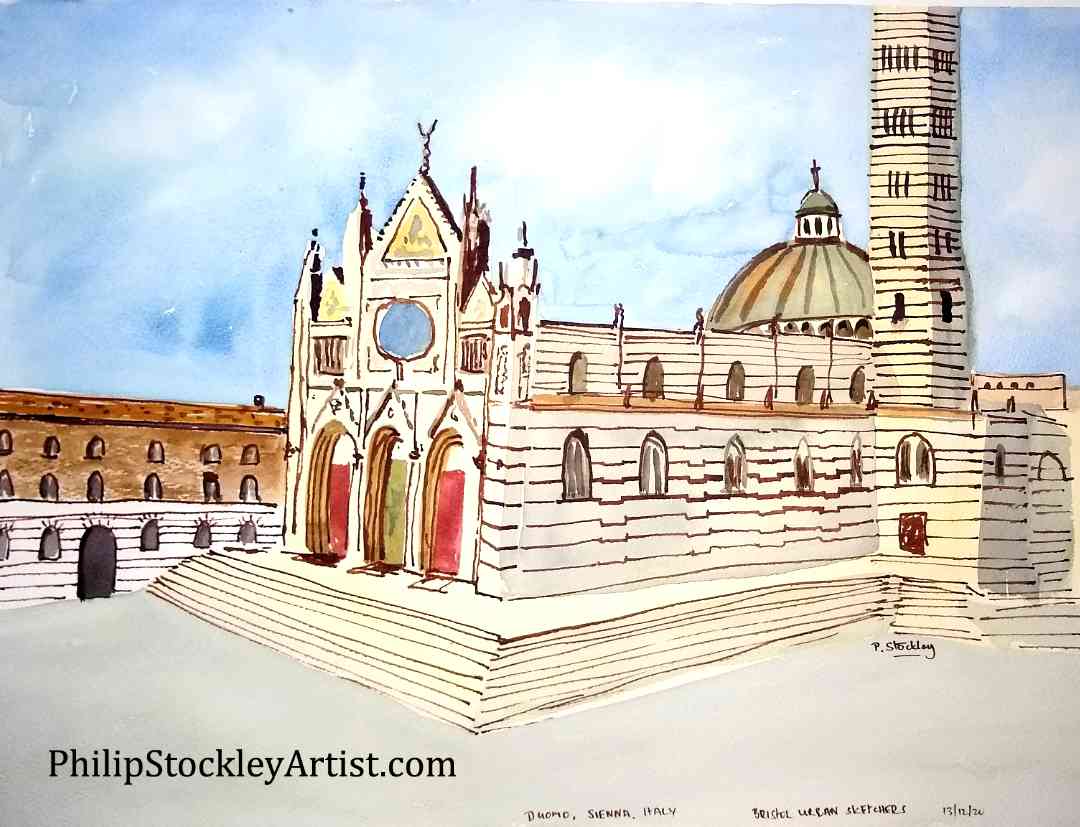 The Duomo in Sienna, Italy.  Usually there are a lot more people around the Duomo – lets pretend everyone was isolating because of Covid-19, not the fact I did not have time to add people to the image!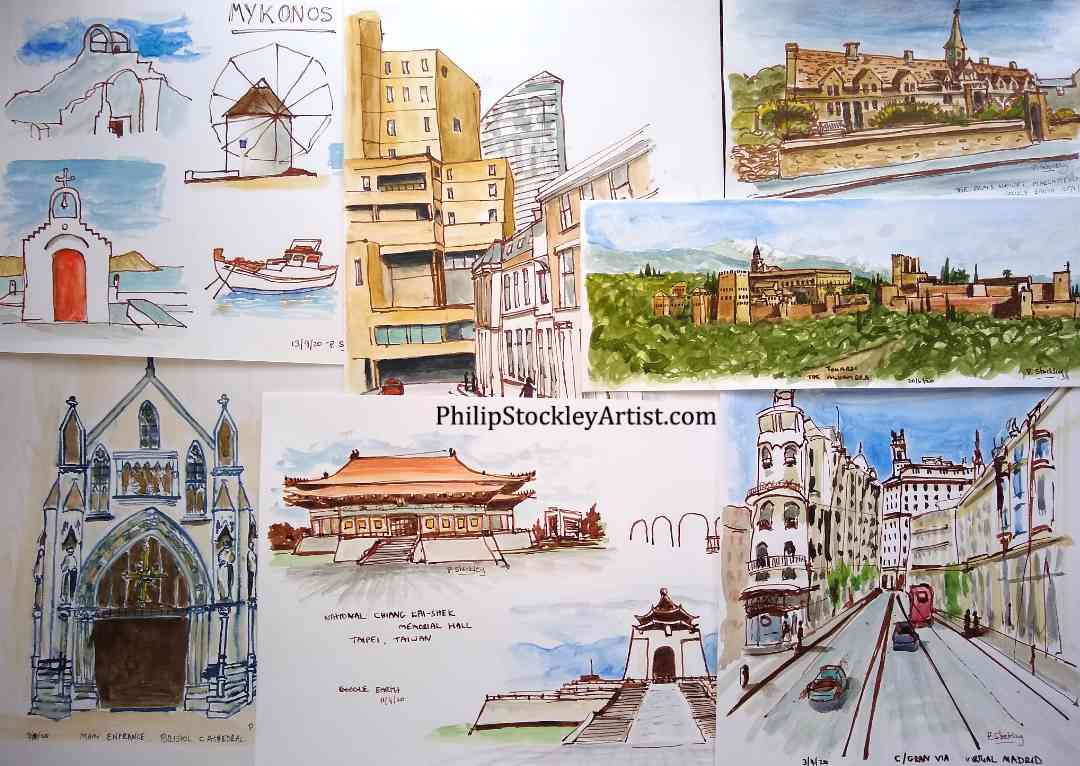 These last two photos show some of the other places we visited virtually – some in the UK, and some abroad