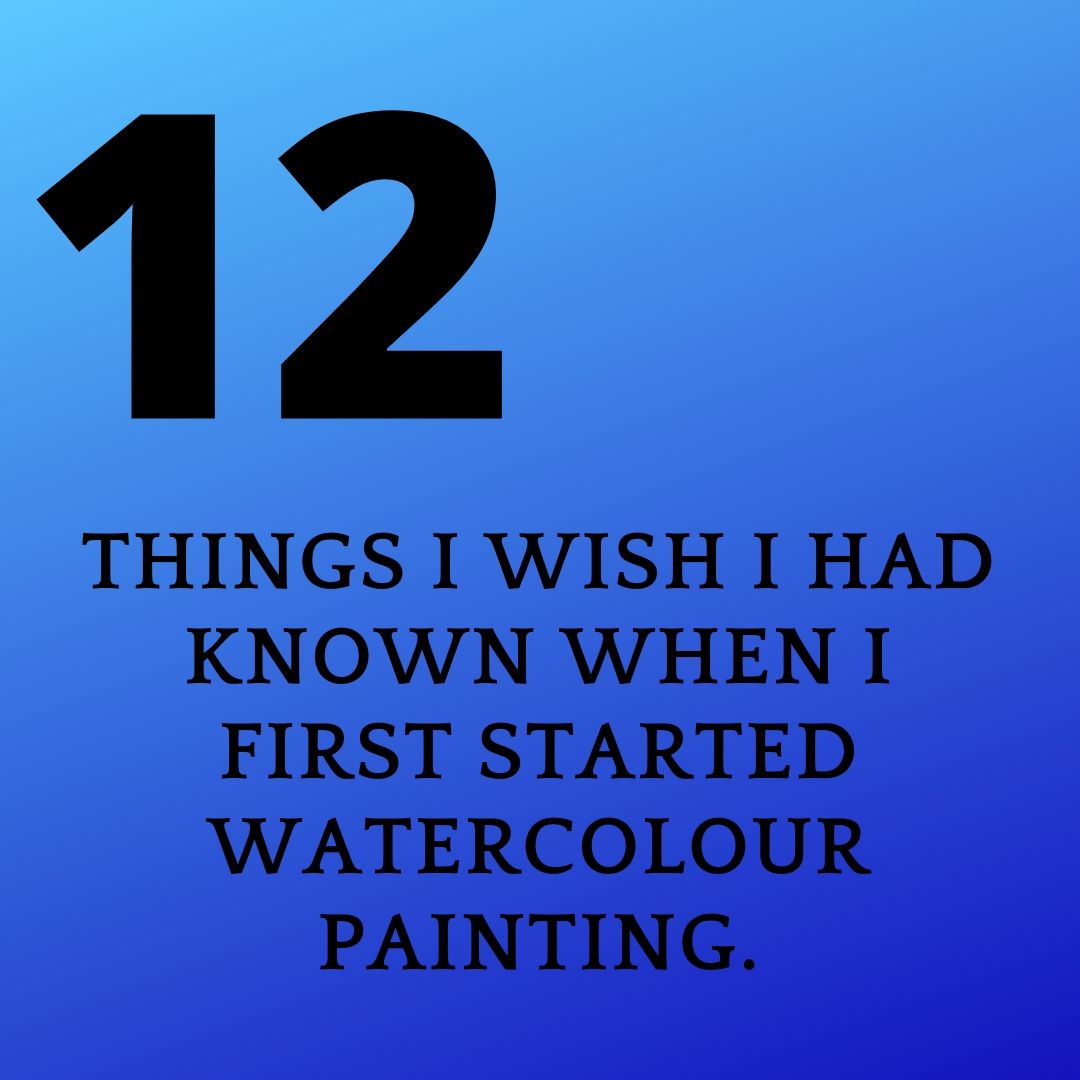 Over the last four or five years I have had the time to take my watercolour painting seriously, after a life time of occasional "frustrated dabbling".  I must say, it has been more of a challenge than I anticipated, but also a time of excitement, development and sense of achievement.
So what would I tell my younger self if I was just starting out? 
It has come as a surprise to me to realise that my most important tips are not to do with the process of creating art – but about one's attitude to creating art!  Hopefully many of my points will ring true for you as you look through my list below:
1)   Your art is your own creation, so do it your own way. Whatever the conventions/rules you are told about, remember that they can be useful, but are not rigid. In other words, you are in charge.  You can do what you like to create your image and you don't have to follow conventions and rules.  This is hard for many of us to grasp – especially if you were discouraged about your artistic abilities at school, or later life.
Once you really accept you are creating your own artwork and you can do what you like with it, you become free.   If you want to trace rather than draw – do it.  If you want to use white gouache for highlights – do it.  If you like to leave pencil lines showing – do it.  If you want to use a crazy perspective – do it.  If you want to use mixed media – do it.  Don't feel guilty or worry what other people will think – do it!
When I visited the Van Gogh museum in Amsterdam, I was amazed to discover Vincent Van Gogh's early paintings were far from outstanding.  It was only when he went his own way and did his own thing that he really blossomed as an artist – (although doing so might, I suspect, have contributed to his inner turmoil).
2)  Embrace mistakes, and revel in them as the best and fastest way to learn. Not surprisingly, we all want to create masterpieces with every painting – but it is unlikely to happen.  With many things in life, we spend a long time learning (how to walk, write, learn a language etc), and learn fastest when we make mistakes and work out what went wrong, and do it differently next time.  Painting is no different, and it is a good idea to ask yourself what you could do better next time, and to search out advice to give you ideas for alternative approaches to a problem.
3)  Understand the medium of watercolour, and particularly the properties of water. Many  people find watercolour to be a difficult medium to use, and I suspect this is because they do not get to know the properties of water, and how it behaves. Watercolour is essentially putting coloured water onto paper – and so you have to develop an understanding of how to apply the coloured water (how thick or watery the paint is, how wet or dry (thirsty) the brush is, how the brush is applied to the paper, how wet the paper is, how the coloured water will flow on the paper, how quickly the water will dry on the paper etc).  There is a lot to get your head around – but at its core, you are dealing with applying coloured water to paper – and as the artist you control how much colour and water are applied, the manner in which they are applied, and when and where they are applied.  That, essentially, is painting with watercolour!
Of course, there is a lot of technique to learn, and the many combinations of different paint, brushes and paper which you can use. The possibilities are endless, but ultimately you are learning how to apply coloured water to paper.
4)  You don't need the best paper, paints and brushes when you are learning to paint. Practice is the important thing when learning to paint.  Practice, experiment, reflect, practice. 
Sure, it would be great to use the best materials from the start, but this is likely to involve a lot of unnecessary cost, and mean you are reluctant to experiment and make mistakes.  (I have never come across a driving school which uses a Ferrari when teaching people to drive).  If you start with reasonable supplies you can always buy more expensive / better quality equipment when you understand how it might help your art.
5)  A good drawing is the foundation for a good painting. I have learnt from bitter experience that it is better to spend time getting  the drawing / composition /structure of your painting right before you start painting, than to try and make corrections while painting.  It is like building a house with bad foundations – you can spend far more time trying to rectify the situation, which it a lot harder than getting it right at the beginning.
This means, of course, that developing your drawing skills, and artist's eye (and understanding of the 'language of art') is also important to produce good artwork.  That might sound like a further challenge – painting AND now drawing too.   But they work hand in hand, and on the plus side it means you never will be bored – there is always something to look at and to ask yourself – how would I draw or paint that?
6)   Colour is less important than Tone (light and dark values). This is a difficult area to master, but essentially (as with black and white photograph) the light and dark values in a painting give definition to make the subject understandable.  It is possible to add tone through colour to enhance a picture, but without tone, the subject cannot be defined and understood.
7)  Don't be frightened of Colour! Rather, restrict your pallet to primary colours and learn to mix most other colours from them.  I can understand why paint manufacturers sell paint boxes with huge ranges of colour in them – but, in my experience, it can do a dis-service to people who want to learn to paint. Why?  Because I, and probably many other people, are paralysed by the choice.  For a long time I would look at the range of colours in my paint set and randomly choose the colours I thought would 'do', with no understanding of why I was choosing a colour – with the result that many of my earlier paintings seemed garish and not coherent.
It came as a real revelation to me to discover that most paint colours can be mixed from three primary colours – red, yellow and blue.  Thats right – ONLY three primary colours !!   (Of course, there are refinements  to this – with warm and cold primary colours, and staining or granulating colours etc.)  But once I restricted my pallet to these colours I was able to grow in confidence with mixing and using colour, and produced more harmonious and complementary paintings. 
Restricting my colour pallet has increased my confidence so I am no longer frightened of using colour.
8)  There seems to be a point in every painting when you feel it is just a mess, and you should give up. Don't!  It is a normal part of developing a painting.  Step back for a minute, think about what you are trying to achieve, change tack if you need to, but keep going.
9)  Free up your paintings by standing up, and using larger paper and a larger brush than you are used to. If you feel your painting is getting into a rut, and you are putting in more and more detail – Stop and do something different.  For me, I like to do most of my painting standing up (better movement of hand and arm, able to stand back to look at my work etc).  I also like to work big, and use large brushes, with lots of mixed paint ready to apply (using tubes rather than pans, as it is quicker to pick up and  mix more intense paint)
10)  Simplify, and concentrate most of your effort on a centre of interest and leave out details in the less important parts of the painting. While it is tempting to paint everything in a scene, it is very difficult and time consuming to do so – and to my mind, misses out the sense of magic that can be conveyed in a painting.  I am not a great fan of hyper realistic painting – partly because I don't have the patience myself,  and while I can admire the artist's technique and observation  it can look like a photo.  For me, I prefer to simplify a scene and try to find some hard to define qualities to try and represent in the picture.
11)  You own style will develop – even if you cannot see it yourself at first. I have spent some time trying to define my style with the intention of developing it further, only to give up and just paint.  However, other people seem to think I have a particular style – which I still find hard to recognise.  So I have concluded that it is better to get on with my paintings and let others worry about recognising my style.
12)  Share the experience, and your art. Meeting with, and working alongside other artists at whatever level  is a great way to learn and to find out about different techniques, styles, materials and possibilities.  I have had the pleasure of being part of an art group where everyone does their own art at the weekly meet-up.  There is a spirit of mutual help and support, with no instructor, which means we are exposed to a range of ideas and techniques and ways of working, and can ask for honest feedback when necessary (of the "Have I made the eyes too big/ Would this look better darker" variety).
I have also found it useful to exhibit my art – not only because it has made me go through the process of preparing artwork for display (which images to display, how to mat, frame, display, and price artwork).  But perhaps it is just as important to get comments and feedback about your work.  While this is not always positive (hey, you can't please everybody) it is invaluable for understanding how other people see your work.  And the occasional sale has been welcome too.
Hopefully this list of twelve things I wish I had known when I was starting to take watercolour painting seriously will also help you. I hope over time to expand on some of these topics, so please join my email list, so I can let you know when I have done so.
Meanwhile, remember that you are in charge of what you create, experiment and learn, and above all, enjoy your own artistic journey and creations.