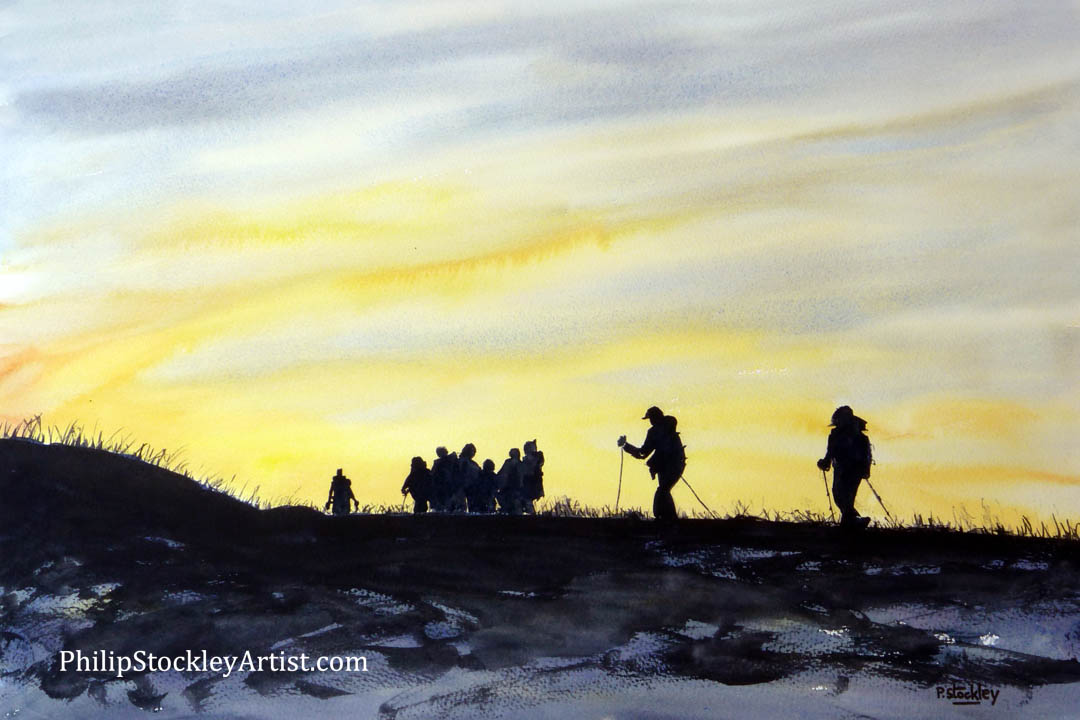 Available as:     Prints, cards
Medium:           Watercolour on paper
Original:            – Sorry, this is SOLD
Original Image size:   
Ask for details
After a hard day of walking it is exhilarating to know that you are nearly home, as the sun begins to set and you cross the last ridge of the day.
For me this painting sums up that feeling of joy, relief, and a day well spent.
We do a lot of walking with the Forest of Dean Ramblers (and other groups) and enjoy the company of our walking friends.  Different people act as walk leaders and so we discover many different walks in varying countryside up to an hour's drive from our home.
Interesting Fact:

The UK is a great place to walk – with an extensive network of footpaths all over the country, and accurate detailed maps to follow (made by the Ordnance Survey, or "OS" for short)  The UK is also fairly small (compared to the USA, Canada, Australia etc) so it is possible to be in very different types of countryside / coastal areas in an hour or two's drive from where ever you are based.
Unfortuately, many of the 'powers that be' do not realise how extremely fortunate we are in the UK for walking, and do not see our wonderful maps and network of footpaths as National Treasures, and so do not give them the protection  and promotion they should have.