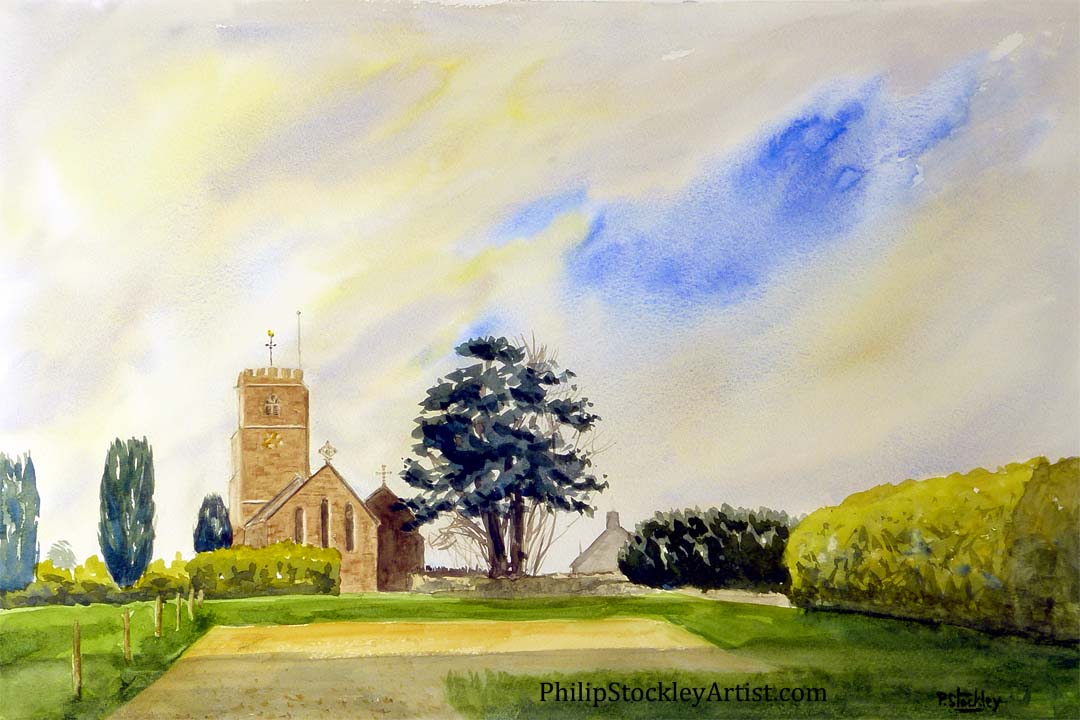 Church at Weston Under Penyard
Available as:     Prints, cards
Medium:           Watercolour on paper
Original:            – Sorry, SOLD
Original Image size:    Ask for details
Weston under Penyard is a small village in Herefordshire, England, UK.
I unexpectedly found myself with an hour or two to spare in Weston under Penyard, and so had time to explore the Church of St Lawrence.  It struck me that the Church would make a good subject for a painting – so I took photos from a number of angles.
Some weeks later I painted this picture, which is fairly true to life – apart from the fact that the church has a chimney on one side – presumably to heat the church in winter.  This is the first time I have come across a chimney on a Church of England church, so it was interesting to see.  However, it did not help my composition, so I left it out of my painting!
Painting St Lawrence Church was quite a challenge as my usual style is generally less detailed.  However, I am pleased with the final result – and especially with the windows and the stonework on the building.
Interesting 'Rumour'
Richard Amerike was born in Weston under Penyard.  In later life he became a rich merchant in Bristol, and funded the adventurer John Cabot's voyage in the ship 'the Matthew' to discover America.  The theory has been put forward that his name was used to name America – as recognition of this support.  Check out Wikipedia to find out more!