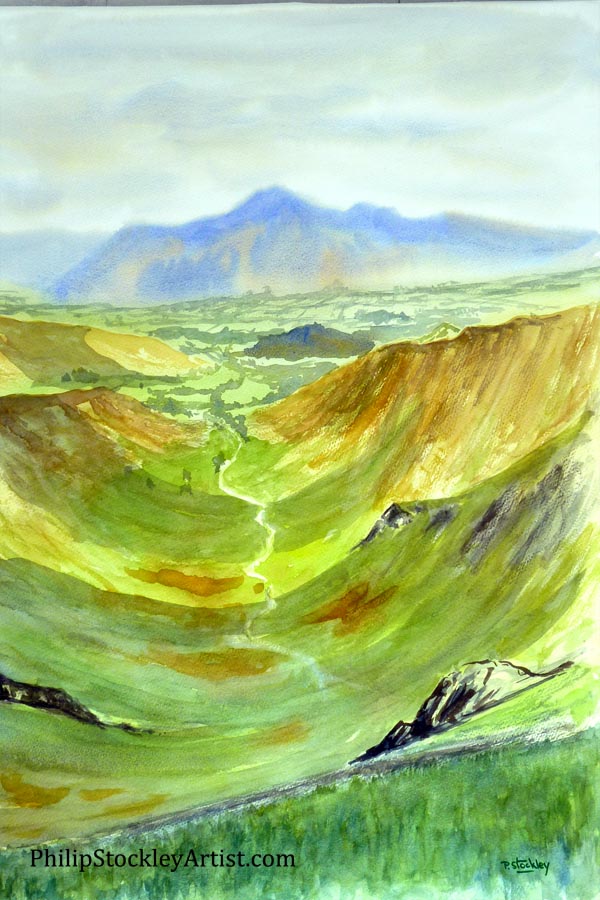 The Newland Valley from Dale Head
Available as:     Prints, cards
Medium:           Watercolour on paper
Original:            – Still available
Original Image size:   
Ask for details
The Lake District is a lovely area in the north east corner of England, UK.  It is a special place for walkers and other outdoor activities because it has lakes and rugged, unspoilt mountains in abundance.
By many standards the area, and mountains are small – but they are just right for a good day's walk – where (weather permitting) you can get to one or more summits, and return home for supper, possibly having also visited one of the many tea rooms in the area for tea and cake as well.
This view is from 'Dale Head', a popular meeting point for a number of walks.  You know you have arrived because there is a very well made 'Cairn' (pile of rocks to help mark the path) and this lovely view.
I have tried to capture the changing nature of the view, as the shadows of the clouds inch their way down the valley sides and up the other side.
Interesting Facts:
The English Lake District (or the Lakes) contains the largest National Park in the UK, covering 2,292 square Km (885 sq. miles); has England's highest mountain (Scarfell Pike, at 978 meters (3,209 feet) and 12 lakes.
Around 15 million people visit the Lake District every year