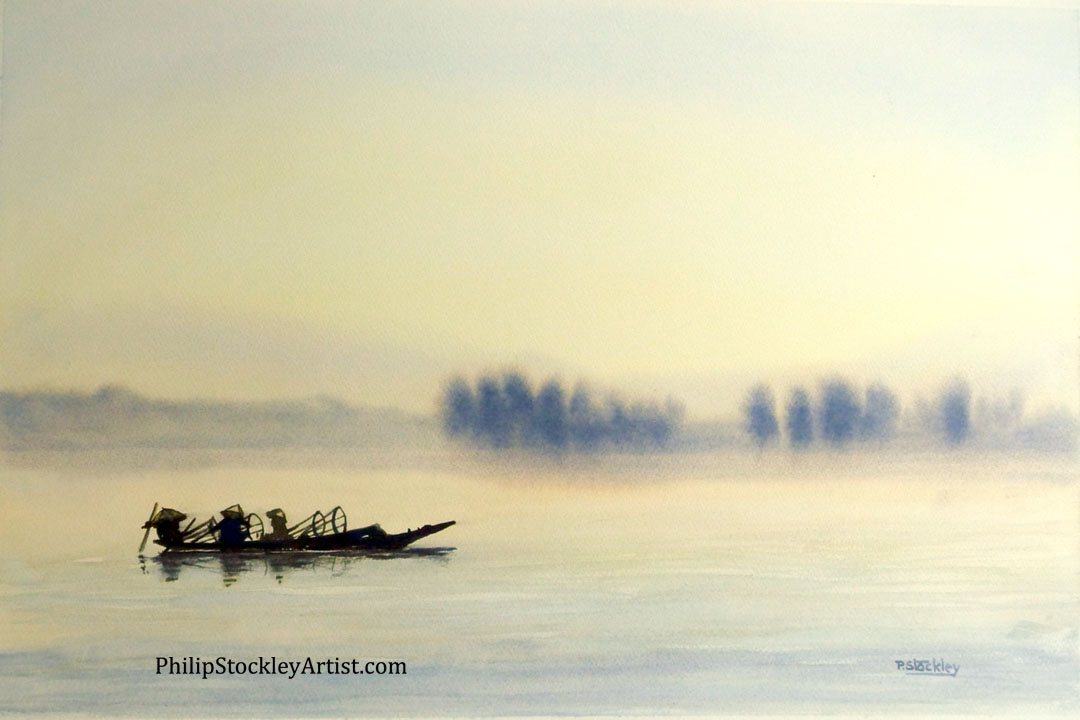 Fishermen in the early morning, Lake Inle, Myanmar
Available as:     Prints, cards
Medium:           Watercolour on paper
Original:            Sorry – SOLD
Original Image size:    Ask for details
A friend visited Myanmar and posted some photos on facebook of their trip to Inle Lake.  I based this painting on their photo – leaving out some of the other features, and concentrating on the fishing boat in the foreground.
The painting was relatively simple to paint, with its misty, early morning light and distant trees.  The dark tone of the fishermen in the boat give meaning to the scene, and act as the focal point for the picture. 
Interesting Fact:

Inle Lake is a large freshwater lake in Myanmar (formerly Burma).  It is becoming an important tourist destination within Myanmar because of the beauty of the lake and its surroundings, and because some of the local people actually live in houses (on stilts) above the water.  Much of the transport on the lake is in small boats, and traditionally the men row by standing on one leg in the stern, with the second leg wrapped around the oar.  This leads to a rather distinctive style of rowing and must take some practice to avoid overbalancing into the water!  
The lake is also known for its floating water gardens, when food plants are grown on old floating vegetation which has been collected and formed into 'gardens'.  These are tethered,  but can rise and fall with the water level – which changes by about 5 feet (1.5m) between the dryer seasons, and the rainy season – from an average depth of 7 feet (2.1m) to 12 feet (3.7m) in the rainy season.