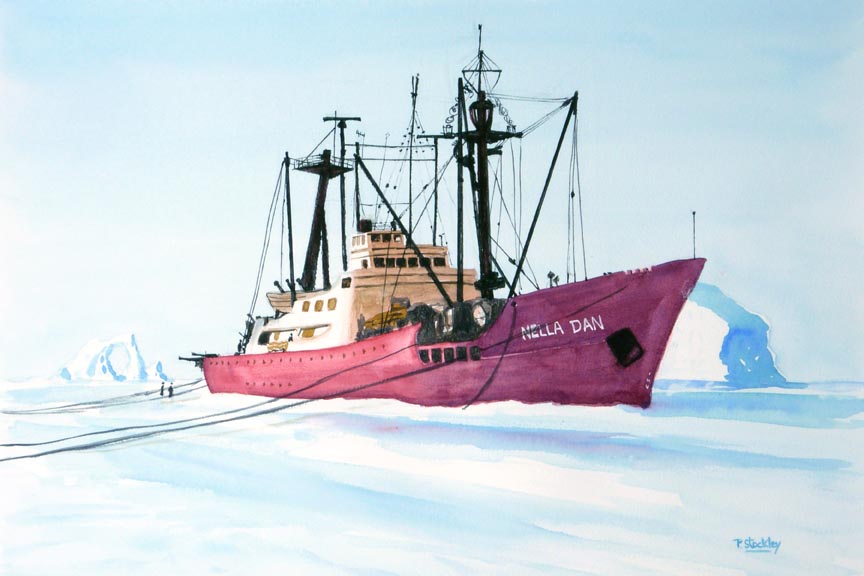 Nella Dan – scientific explorer ship
Available as:     Prints, cards
Medium:           Watercolour on paper
Original:            – Sorry – SOLD
Original Image size:    Ask for details
A friend of mine is a geologist who spent 6 summer seasons working in Antarctica.  He travelled there on a scientific survey vessel called the Nella Dan. 
As my friend is a keen photographer, and I was looking for interestng material to paint, I thought he must have unique photos of Antarctica.  Sure enough, he has fond memories, and photos, of his time on the Nella Dan.  This painting is based on some of those photos.
From a technical point of view while painting, the ship presented me with some challenges – especially the rigging, as part of its function was to load and off-load scientific and other equipment in in-hospitable places, and to have good communications.  Hence the large number of masts and antenae on the ship, which I had not fully appreciated before I began the painting.
Interesting Fact:

The Nella Dan was one of a fleet of distinctive red scientific survey ships that worked in both of the Polar regions.  She was launched in 1961 and made 85 trips – taking her the equivalent of 24 times around the Earth.  
Sadly the ship was damaged in a storm off Macquarie Island (in the Southern Ocean, between New Zealand and Antarctica) and could not be salvaged.  She was scuppered and sank on Christmas Eve of 1987.  
If you want to know more about this remarkable ship, you can see a video of the ship here, or visit the Friends of Nella Dan's website or their Facebook page.