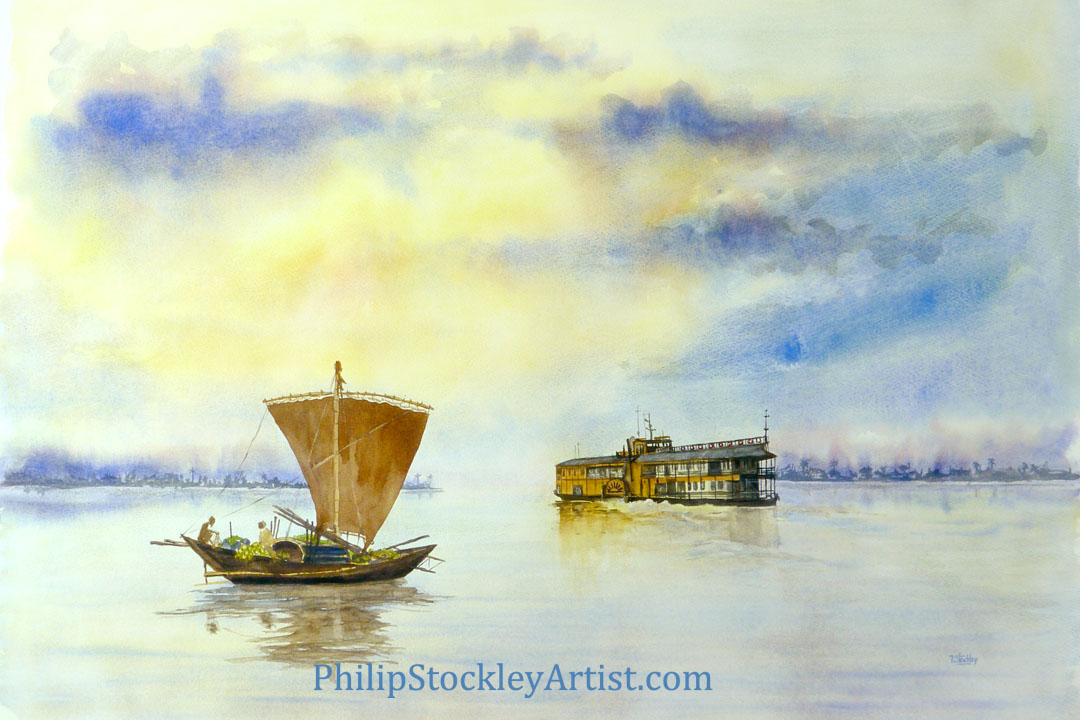 The Rocket paddle steamer and the cargo sailing boat, Bangladesh
Available as:     Prints, cards
Medium:           Watercolour on paper
Original:            – SORRY, not available
Original Image size:    Ask for details
The 'Rocket'  paddle steamer service in Bangladesh is an usual travel opportunity, and a reminder of a bygone era.   
You may think it is a surprising subject for me to paint, and perhaps an explanation is required.   My early years were spent in India and Bangladesh, as my parents worked in Bangladesh, and I went to boarding schools in India – in Darjeeling, and later in Ootacamund, South India.  I thus travelled on the Rocket a few times as a young person, and enjoyed the experience. 
Two things impressed me – sitting upstairs at the front deck of the boat (first class, I'm afraid) at night with a great searchlight above darting from side to side in the darkness, looking for the smaller, slower vessels like the cargp sailing boat shown in my picture.  The second thing I enjoyed was going downstairs and watching the action of the giant mechanical parts moving the great paddle ship forward. 
Interesting Fact: 

Paddle steamers like the Rocket were introduced to the vast rivers of Bengal by the British during the colonial period. They were used to transport goods, such as tea – from the tea gardens in Assam, and for general transport.  Originally they were the quickest, and most comfortable way to travel – hence the name 'Rocket'.  Their flat bottom design and paddle propulsion meant they could operate in relatively shallow water.   As time has gone by, newer and faster ways to travel have been introduced, and the glory days of the Rocket service are well and truely behind us.  However, if you want an interesting trip, there are still 4 paddle steamers (diesel actually) operating  in Bangladesh.   How much longer they will be there, is anyone's guess.